TV Jones TV-HT Single-Coil Pickup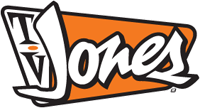 Hersteller

: TV Jones
Produktinformationen
Merkmale
Art

Single Coil

Instrument

Gitarre
Clanky, single coil tone with a hint of natural midrange. When the bridge and neck pickups are on at the same time, 60-cycle hum is eliminated. In this mode they are 2 single coil pickups wired in parallel. The TV-HT is designed to produce twangy bass and crisp highs.
Bridge: TV Jones improved on the vintage Hilo'Tron™ single coil pickup by widening the pole-to-pole spacing and increasing the output of the bridge position.
Neck: A tonal replica of a vintage 1960's Hilo'Tron™ pickup.
Charakteristik/Klang
Twangy and clanky Tight, clear bass notes
Ähnlichkeit
Original 1960's Hilo'Tron™
Mounting Options available
NE Filter'Tron Mount - kommt mit "Compression Rubber"
English Mount - verschiedene Rahmen verfügbar
Musikrichtungen
Surf Music, Rock 'n' Roll, Rockabilly
Wer spielt diesen Pickup
George Harrison
Weiterführende Links